Product Information

GONIN MUSUME
Origin of the name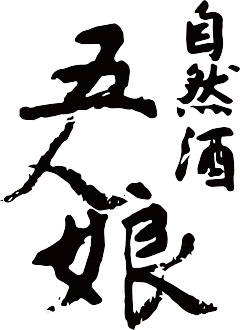 When the 23rd-generation owner, Keisuke Terada fell ill, his degraded physical condition became a trigger for him to re-evaluate life and redirect his brewery toward beginning a new journey in sake brewing. He wanted to make full use of the force of nature to develop authentic sake that delivers true benefits to all those who enjoy it. After going through repeated trial & error, Terada Honke finally came up with a product that lives up to its newly defined philosophy. Keisuke asked Bunmei Tsuchiya, an established poet representing the Araragi school, to be the godfather of this memorable, first natural sake product successfully brewed in-house.
 Bunmei, who was a very old man by the time he received this request, had personal ties with Ken Terada, the 20th-generation owner. He remembered the time when he visited Terada Honke and was surprised to be greeted by the many daughters of the owner. He decided to name the product "GONIN MUSUME" ("Five Daughters"), based on the thinking that "sake made in a lively brewery with many daughters in the household must make for joyous cheer" and that the "purity of naturally brewed sake resembles daughter-like innocence."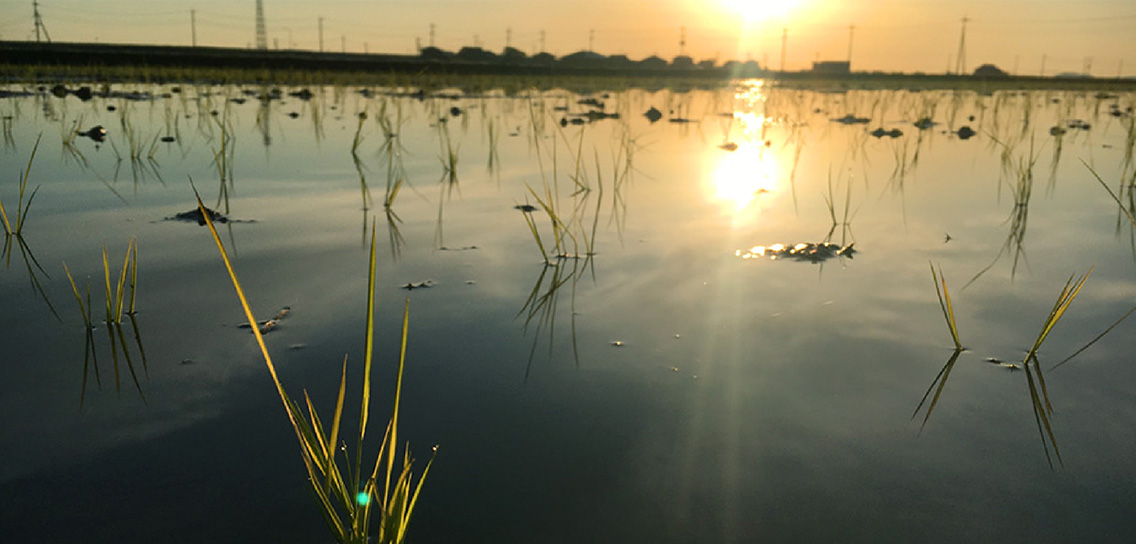 Searching for pesticide-free rice
Before Keisuke became ill, he was basically only interested in procuring inexpensive sake rice that would help lower production cost. To drastically transform this cost-oriented business model and focus on the pursuit of natural sake brewing, the brewery began looking for pesticide-free rice. Although it wasn't easy to find organic rice producers when Keisuke embarked on this new journey 30 years ago, he managed to find one in Yamagata Prefecture through an article in an agricultural trade magazine. He quickly visited this farmer in Yamagata and was finally able to secure a supplier of pesticide-free rice.
 During his visit, the farmer showed Keisuke two types of old rice produced 10 years back. One was rice that had melted and blackened like tar. The farmer explained that this was produced using pesticides and chemical fertilizers. He then showed the other one grown without and told him that this rice did not change since harvested so they could still be used as seed to grow new rice if planted. This explanation gave Keisuke resolve to only use pesticide-free rice for brewing new sake from then onward.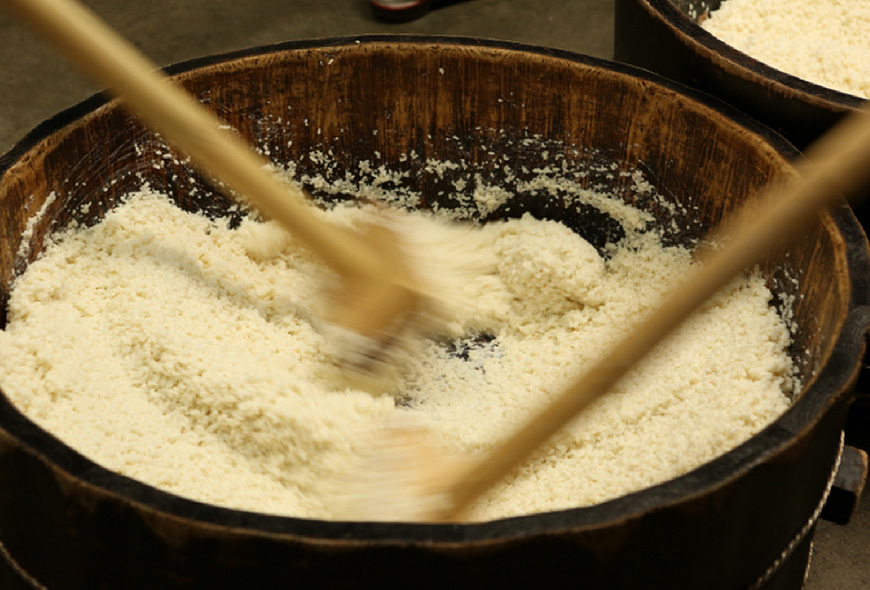 Impromptu initial use of the yamahai method
In using this pesticide-free rice that he managed to procure, Keisuke and his team of brewers initially applied the "yamahai" method, which is a simplified form of the traditional "kimoto" method used to prepare the yeast starter. Brewers in those days had very little knowledge about "yamahai" only to the extent of "hearing about it long time ago" because they were basically trained to take the quick-fermenting approach known as "sokujo" up until then. Still, even with such limited knowledge, they managed to avoid failure and succeeded in brewing new sake that had a deep delicious taste enhanced with a faint sweet flavor contained in the organic rice itself.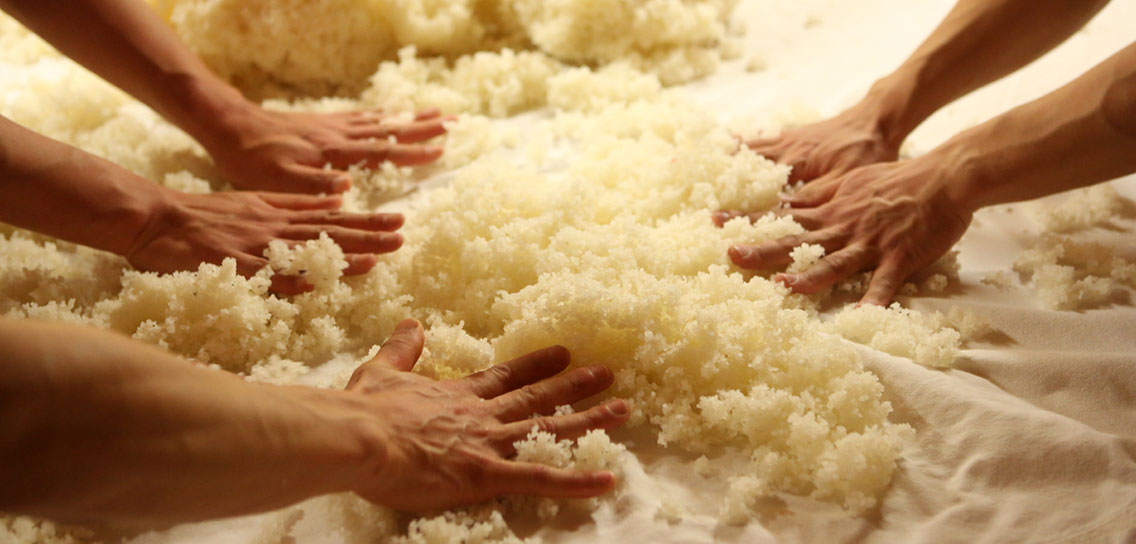 Preparations by hand
The newly born GONIN MUSUME, however, did not sell much in the beginning. It was through tenacious marketing efforts that supporters of this new brand started gradually increasing, and it eventually spread widely, even to retailers of organic food, all through word-of-mouth. Around then, the brewers at Terada Honke started applying the "tenohira zukuri" approach, in which they use their own hands to prepare the yeast starter. They also changed the preparation method from "yamahai" to the traditional "kimoto" method that includes the "yamaoroshi" (also known as "motosuri") process, which meant that the manual workload of the brewers began to increase more and more.
 Today, we have also revived the tradition of singing motosuri songs in unison that now echo throughout the brewery when the preparation period starts every winter.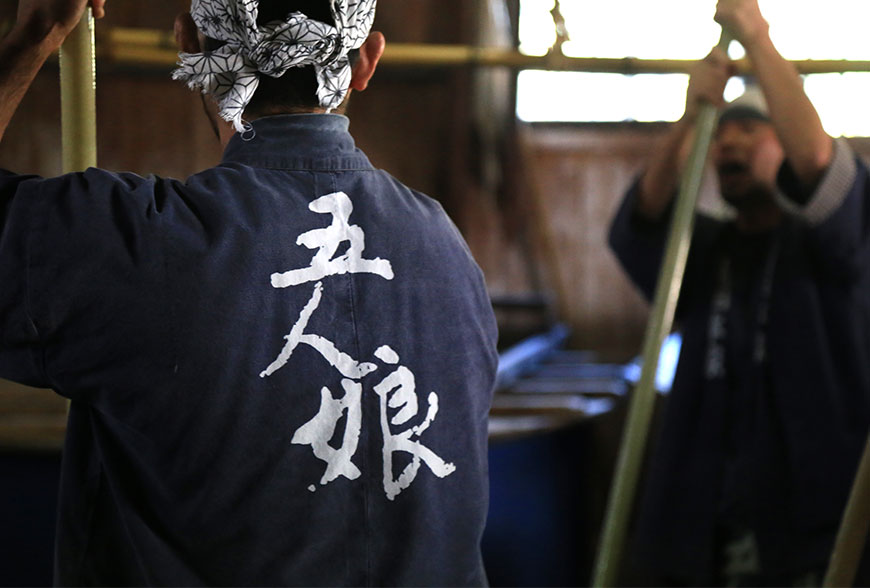 Sake: Amber-colored when unfiltered
Many people may think that sake is an uncolored transparent type of brew. However, the liquid actually brightly shines golden yellow when it is freshly pressed. It becomes transparent only after filtering with charcoal and diatomaceous earth so as to remove the color and off-flavor. At Terada Honke, we call this color of the freshly squeezed sake as being "amber." The filtering process makes the sake very clear, but one disadvantage of this is that many of the substances released from the microorganisms would also be removed in this process.
 Initially, we were making GONIN MUSUME as a "filtered" sake product, but we are now producing all the Terada Honke sakes, including GONIN MUSUME, as unfiltered. This is based on our policy of delivering freshly brewed products in their original essence so that we can share the joy of experiencing the authentic taste of natural sake made through traditional brewing techniques at its best.