Café Ufufu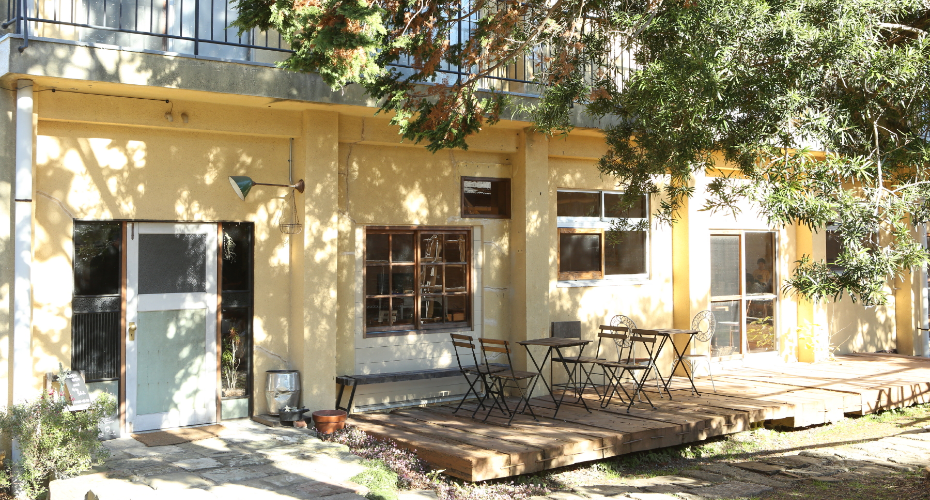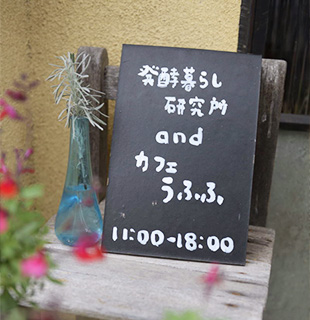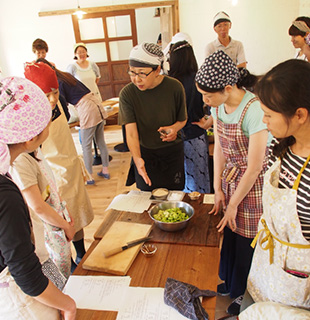 At the base of Kozaki Shrine by the brewery of Terada Honke is where the Fermentation & Life Study Studio & Café Ufufu are located.
The space for this workspace & studio and the café was created within an old apartment building constructed 40 years ago. It was primarily renovated wherever possible by the brewers themselves with the help of their friends and supporters, who recycled the large wooden lids and various other tools that were used in the brewery.
We created this space so as to build a center where people can study fermentation as a culture and where the knock-off effects of fermentation can be seen in things like clothes, food, and housing. Here, they can also put their learnings into practice and exchange their findings with others. Through the various events and workshops that we are planning, we hope to pass on our knowledge to future generations via this space.
 Deep in the forest surrounding Kozaki Shrine is a sacred natural spring that serves as a vital source of life for all creatures in and around this woodlands area. It's also the very reason why Kozaki has become known as "Hakko-no-sato Kozaki," i.e., the "natural home of fermentation." If you take a moment to become calm in this serene, slow-moving environment, you might even start hearing the whispers of various microorganisms communicating with each other.
Café Ufufu, from panoramic view 1
Café Ufufu, from panoramic view 2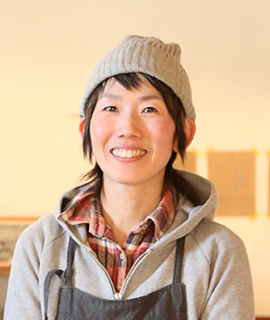 Profile of Satomi Terada
Born and raised on the premises of a sake brewery, Satomi refers to herself as a "sake lees culinary researcher" that is actively engaged in exploring and proposing delicious recipes that can brighten up dining tables daily, using sake lees and koji—things that she has been very familiar with all her life. Her recipes are used in the café, and a cooking class is also planned on an irregular basis.
Days and hours of business
Mainly open on Thursdays and Fridays, but subject to change every month; please check our calendar.
| | |
| --- | --- |
| Business days | Irregular |
| Business hours | 11:00 a.m.–3:00 p.m. |
Lunch 11:00 a.m.–3:00 p.m.
(Might close earlier when food is sold out)

Café Ufufu's lunch menu

Offered in the style of self-serve, where you can pick out different types of daily specials for as much as you can eat.
All these dishes feature seasonal organic vegetables naturally cultivated under the passionate care of local farmers and the rice harvested in no-till farming fields inhabited by many small creatures. They are all cooked with Terada Honke's original condiments produced through various fermentation techniques, along with other naturally brewed seasonings.
All these dishes are prepared without using dairy products, eggs, or sugar.

Drinks 11:00 a.m.–3:00 p.m.

The drink menu includes organic coffee, enzyme juice, and special tea known as "awabancha." The café also offers various selections of desserts and sweets that are made without using any dairy products or sugar.
Access
Café Ufufu is on your right-hand side when facing the entrance of Terada Honke. You will find the roofed alley between Terada Honke's brick walls and the next building. At the end of the alley, you will find the old, renovated apartment on your right, facing a big open area at the base of the sacred forest of Kozaki Shrine. The café is on the first floor.
20 minutes on foot from JR Shimousa Kozaki Station
15 minutes by car from Daiei Interchange on the Higashi Kanto Expressway
Three minutes by car from Kozaki Interchange on the Ken-O Expressway